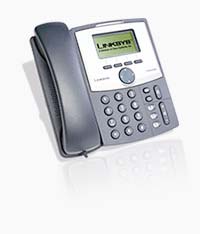 IP phone provides high quality calls. You connect it directly to the Internet. It allows you to make online phone calls independently of the computer. It works just like a traditional landline phone.
Pros:
very good quality of Internet calls
Internet connection speed
works independently of the analog phone
works independently of the computer or laptop
saves energy
Cons:
Attention!
Contact with your Internet provider to ask if you can easily connect the IP phone.

IP phone needs to operate with SIP protocol.

If the phone does not have a built-in router or switch, you should get those devices in order to separate internet connection. Contact with your Internet provider in order to find out which device you should use to connect this type of phone adapter.

See how to configure »